Amundi ETF awarded ETF provider of the Year 2018 by Funds Europe
Tuesday 06 November 2018
Award, Product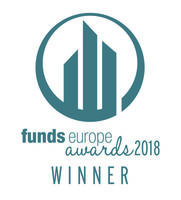 Amundi awarded European ETF provider of the year 2018 by Funds Europe
The 2018 Funds Europe awards ceremony took place on November 1st in London.
Each year, winners are chosen according to precise criteria with a dedicated panel and selected readers of Funds Europe, one of the major business strategy magazines for Europe's asset management professionals.
Amundi ETF was named ETF provider of the Year 2018 based on growth in AuM, pattern of net inflows, stability of performance, product development and innovation, increased acceptability and uptake in target markets.