EDHEC-RISK's 12th European ETF and Smart Beta Survey
Tuesday 10 December 2019
Product, Expertise, Video
The EDHEC European ETF, Smart Beta and Factor Investing Survey is conducted each year as part of the Amundi research chair at EDHEC-Risk Institute on "ETF, Indexing and Smart Beta Investment Strategies".
This year's results show that the ETF usage is becoming increasingly mainstream for institutional investors, with over 90% of investors using ETFs to invest in equities and over 66% to invest in fixed income. Smart Beta also looks set for more growth as investors show continued appetite for smart beta as a risk management tool.
To learn more about the results and the survey main findings watch the video interview to Professor Lionel Martellini, Director of EDHEC-Risk Institute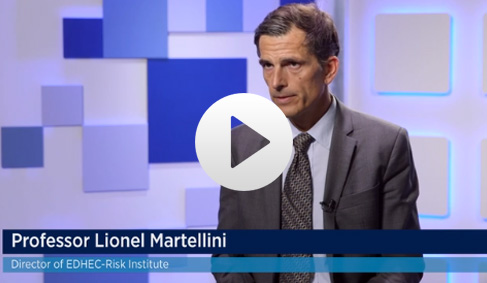 2019 Key takeaways:
On the ETFs side, results shows that:
ETF usage is becoming increasingly mainstream and balanced between tactical allocation and long-term investment
Cost and quality of replication are the two main drivers for selecting ETF providers.
About two-thirds of respondents used ETFs to invest in Smart Beta in 2019, a considerable increase compared previous years.

Regarding Smart Beta and Factor Investing Strategies:
Improving performance is the main motivation for using Smart Beta
68% of respondents consider that smart beta and factor investing bond solutions are especially helpful for investors looking to harvest risk premia
Those investing, or considering investing in smart beta and factors is still higher in 2019 than in 2018, which gives room for further development

Looking at future developments:
31% of respondents want to see more SRI-based ETFs while similar proportions are interested in ETFs related to multi-factor and smart beta indices
Respondents show a significant interest in Fixed-Income Smart Beta solutions and plan to increase their investment in this area. Investors also think ESG and customised smart beta solutions require further development.

This year's results show once again the significant role of ETFs in investor's portfolios and rising interest in SRI ETFs. The demand for Smart Beta and Factor solutions keep increasing too, notably on the fixed income field. Amundi, as the leading European asset manager, remains fully committed to continue innovating to keep answering to investors' needs.
Fannie Wurtz, Head of Amundi ETF, Indexing & Smart Beta
To learn more: consult the executive summary or download the entire survey on EDHEC-RISK Institute website .